Electrical energy is the most demanded type of the energy products and goods.
As any other product, electrical energy has a combination of qualities that characterise its ability to satisfy certain demands of the consumers, such as timely electricity supply, required volume, reliable supply and quality of electricity.
Electrical energy is a product purchased by participants of the wholesale market from generation companies or importers and by participants of the retail market from energy retail company. The main unit of electrical energy is kilowatt hour.
Electrical energy (electricity) is an ability of the electromagnet field to conduct work under the applied voltage in technological process of her production, transmission, distribution and consumption.
Electricity is also a physical term, which is widely spread in technics and everyday life to define number of electrical energy outputted by generator into electrical system or received by the consumer from the system. For more precise description such parameters as voltage, frequencyand number of phase (for alternating current), nominal and maximum electric current are used.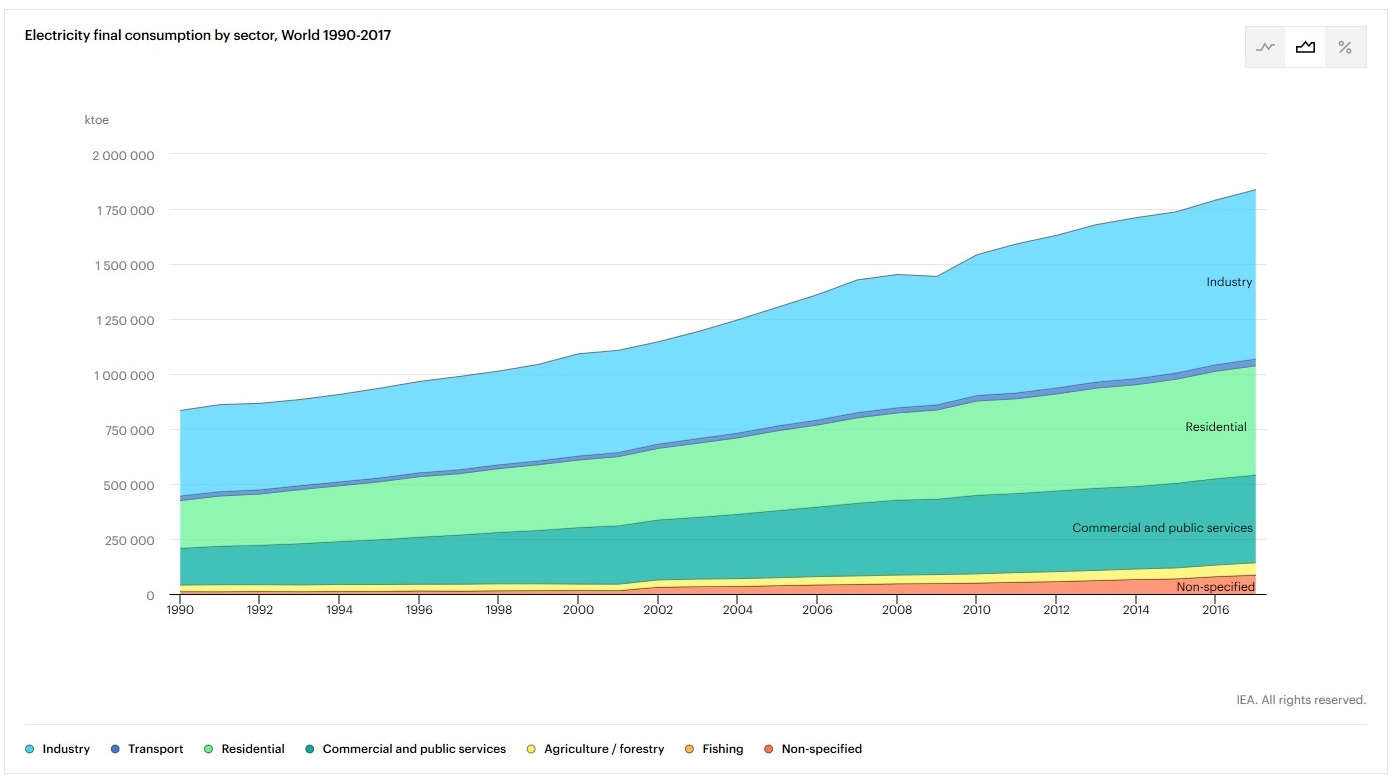 Electrical energy acquired its widespread usage owing to the following qualities:
ability to be extracted almost from every energy source at a moderate expense;
simplicity in transformation into another form of energy (mechanical, thermal, light, noise, chemical);
ability to easily transmit in significant amount into large distance with enormous speed and comparatively moderate expense;
possibility of usage in devices that differ in voltage, frequency, power.
Peculiarities of the electricity as a product
Electricity has some peculiarities caused by its physical qualities which must be taken into consideration in market organization. They are the following:
coincidence in time of the electricity production and consumption as well as the volumes of generated and consumed electricity in every moment of time;
inability to reserve electricity in sufficient amount in the scale of the whole system;
inability to calculate precise volume of generation and consumption in advance;
physical inability to distinguish the origin of consumed electricity.
Another product markets are not effected by a short-term imbalance between production and consumption and cannot lose its stability, as this imbalance can be easily eliminated by means of inventory reserve or product substitute. The electricity market can normally operate only under condition that the balance of production and consumption is ensured in every moment of time.
In practice, producers and consumers of electricity waive their obligation in generating and consumption. Short-term (during hours, days, etc.) and seasonal (during year) fluctuations cause slight underload of the generation. This is also caused by fact that available power of electricity plant should exceed the volume of annual peak load with required reserve.
Energy system controller is unable to regulate electricity output according to the contracts of supply in a real-time schedule and since that consumers can extract electricity with significant discrepancy from contract terms. Necessity in the operative balancing of the energy system in condition of changeable load demands number of cycling power stations which can rapidly alter the volume of electricity generation. Also new models of electricity demand control are used that enable to engage consumers into the balancing of the energy system.
Inability to reserve the product causes necessity to create reserve of generation capacity, transmission capacity and reserve of fuel on electricity plant. The size of the reserve is controlled, and the price of their service is included into the fee.
Special Features
4,38 TWh
Of sold electricity during the previous year
During the last year "NEC" LLC was actively working in the natural gas and electricity markets, providing our clients well-balanced and competitive service packages.
495 thousand
of satisfied clients
In the course of work, "NEC" LLC has gained support and appreciation of the clients and more than 495 thousand of their consumers. Owing to the openness, transparency and integrity, we have achieved the reputation of reliable and responsible company which is taking care of customers` interests.
16
Relieble partners all over the world
"NEC" LLC is a reliable, diligent and results-driven partner. We meet our commitments regardless of the circumstances. The key aspect of the development strategy for "NEC" LLC is an individual approach to meet all needs of the client and our priority in long-term contracts. We are the business partner you can rely on.
We offer electricity at a competitive rate

On the market of electrical energy "NEC" LLC offers an imported product from EU, Belarus and Russian Federation as well as produced in Ukraine. Combination of financial stability, long-term partnership with reliable partners and significant sale volumes provides our customers an attractive price.
| ELECTRICITY PRICE INDICATOR | QUANTITY, MWh | PRICE UAH/MWh |
| --- | --- | --- |
| Slovakia | 1 | 1290.00 |
| Belorus | 1 | 1300.00 |
| Russia | 1 | 1320.00 |
| DAM Ukraine | 1 | 1390.00 |